Since 1985, Millville Chiropractic Center has been providing quality chiropractic care to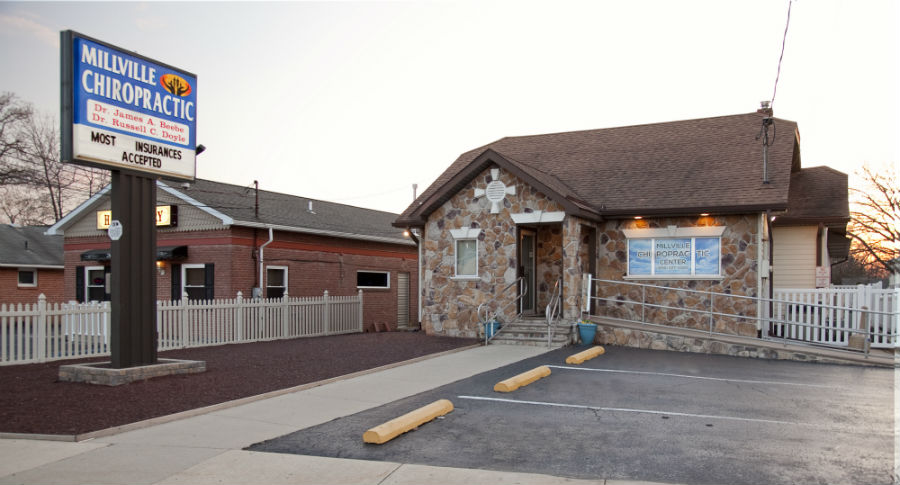 Millville, Bridgeton,Vineland, and the Salem county communities. Our comprehensive treatment facility is conveniently located and has plenty of free parking available.
Our staff consists of James A. Beebe, D.C., Russell C. Doyle, D.C., Brooke C. Doyle, D.C. and John P. Fresh, D.C. accompanied by a staff of highly trained and qualified, professional assistants.
Treatments are customized to relieve such ailments as back and neck pain, whiplash, headaches, numbness and/or tingling, arthritis, sports injuries and more.
We offer the following services:
Accepting New Patients
Allergies & Asthma
Arthritis
Auto Accidents
Back Pain
Back-Support Accessories
Bursitis & Tendonitis
Carpal Tunnel Syndrome
Chronic Fatigue Syndrome
Circulatory Disorders
Corrective Care
Dance Injuries
Diabetes
Dietary & Herbal Supplements
Emphasis On Spinal Correction
Extremity Adjustments
Family Practice
Fibromyalgia
General Injuries
Gynecological Problems
Handicapped Accessibility
Headaches & Migraines
Most Insurance Accepted
Multiple Techniques
Muscle Disorders
Neck Pain
Nerve Disorders
Neurological Problems
Numbness
Outpatient Services
Pain Management
Pediatric Care

Prenatal & Maternity Care
Emergency service
Preventive Care
Rehabilitation Programs
Repetitive Strain Injuries
Same Day Appointments
Sciatica
Scoliosis
Skeletal Problems
Spinal Adjustments
Spinal Decompression
Sports Injuries
Stress Reduction
Subluxations
Tendonitis
TMJ Relief
Wellness Programs
Workers' Compensation
X-Rays